Ljubljana Pharmacy Loyalty Program Design, Customer Care and CX Measurement
Healthy Purchases Create Happy Customers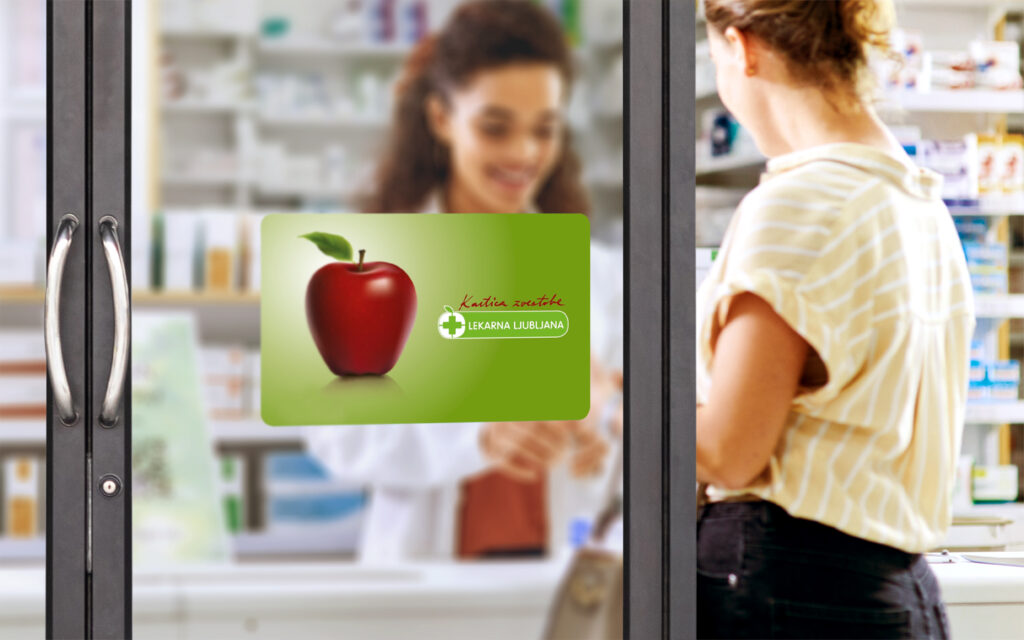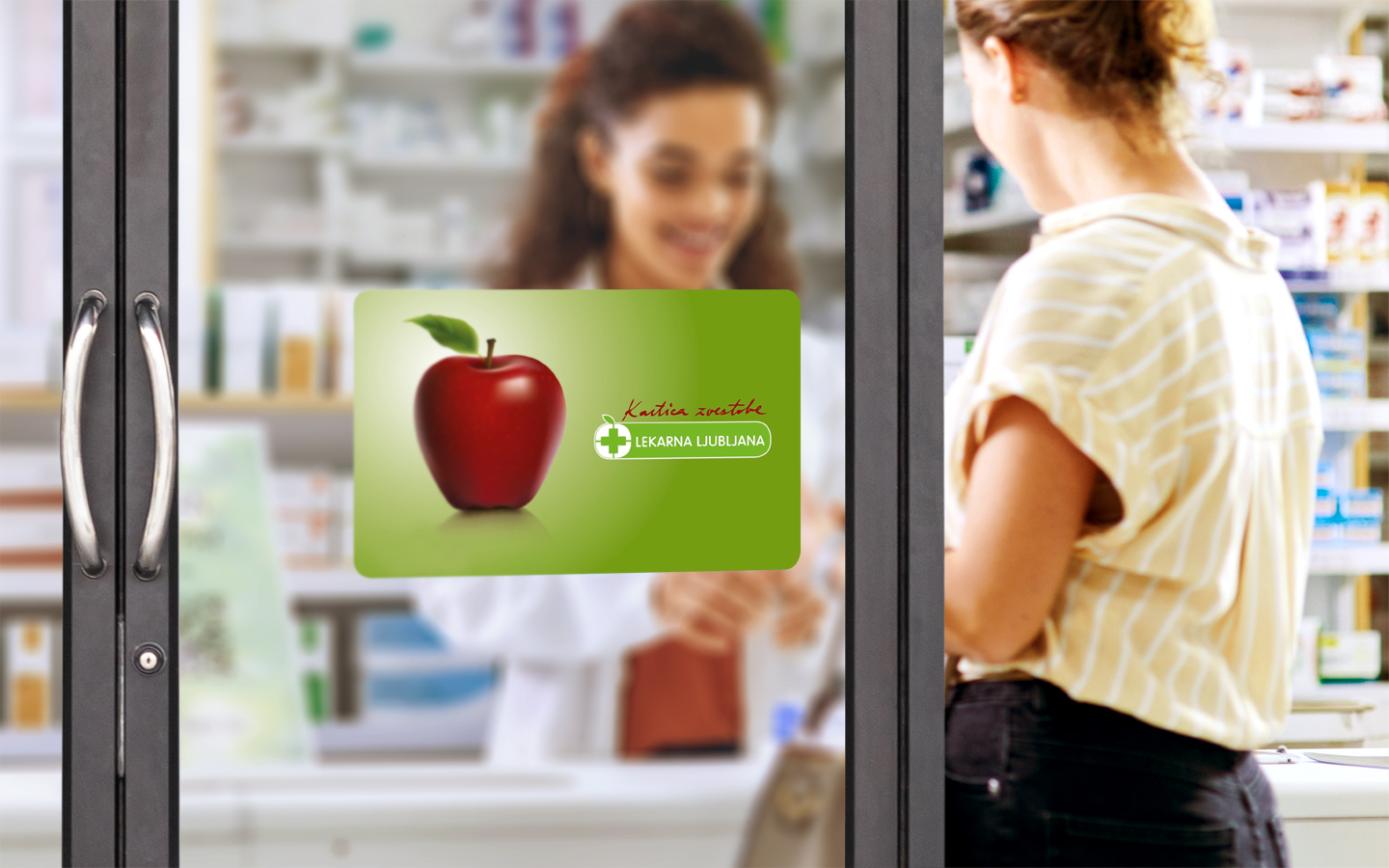 Ljubljana Pharmacy is the largest pharmacy chain in Slovenia. They were the first in the country to introduce a modern loyalty program.
Clients

Ljubljana Pharmacy

Industry

Healthcare

Years

2009 - Present
THE CHALLENGE
Well, It's a Pharmacy. Another One.
When we first approached Ljubljana Pharmacy with our consulting services, pharmacies in general were seen as rather generic facilities, so customers didn't really seem to pay attention to the brand of the pharmacy visited. It was just a pharmacy. Another one.
OUR SOLUTION
Customers Loyal to the Our Pharmacy Brand


As loyalty program design specialists, we introduced the Ljubljana Pharmacy loyalty card, which not only drove customers to individual Ljubljana Pharmacy outlets, but also provided both us and our clients with valuable customer data on which to build a solid CRM and CX program.
Loyalty Program Design
Through in-depth client workshops and market analysis we designed a solid loyalty program supported by mathematical and financial models to ensure financial sustainability along with high perceived value on the customer side. This strategy was focused on supplementary and cosmetic products, as we wanted to avoid persuading customers into buying medicals product that they do not need.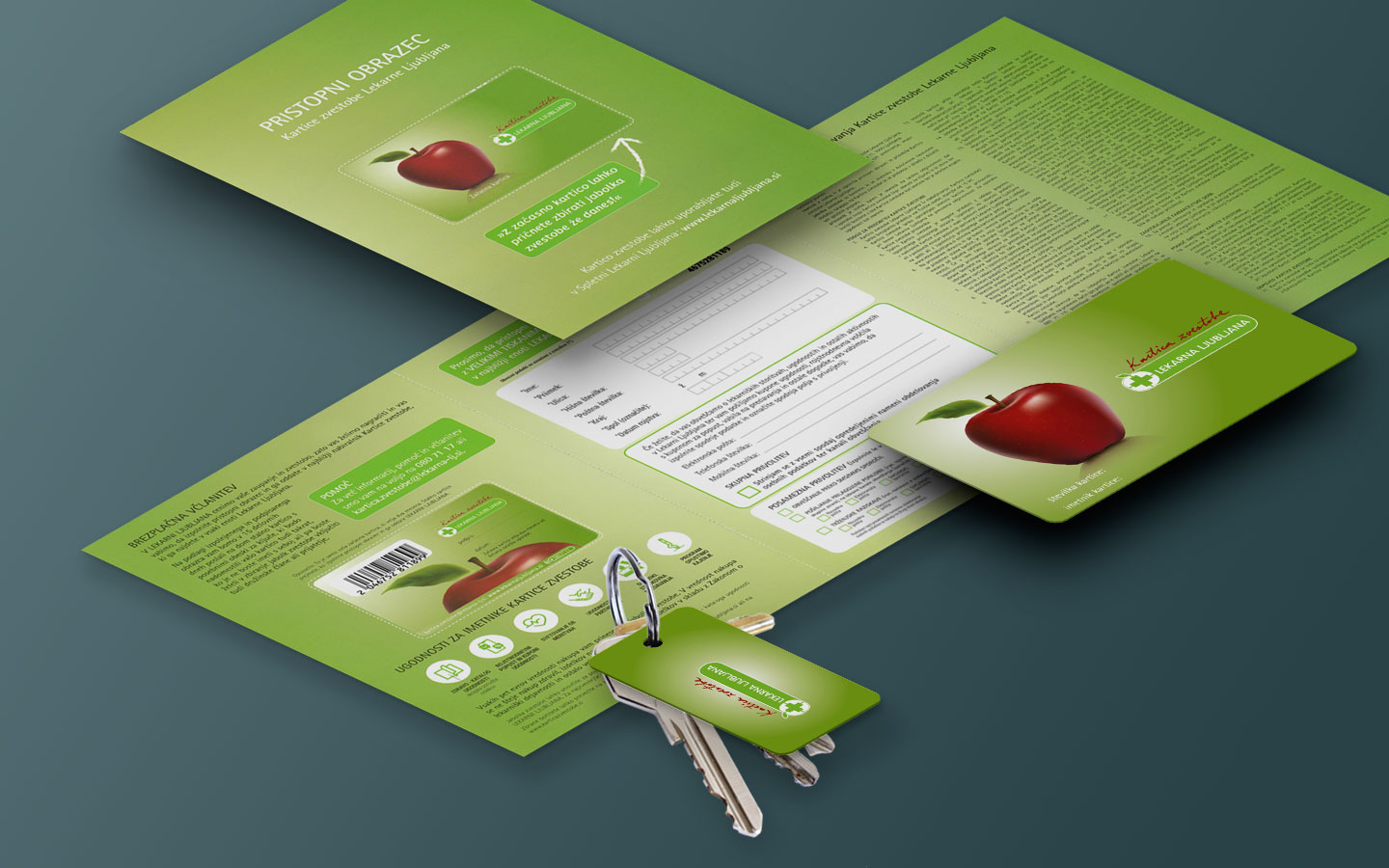 Loyalty Card and its Branding
We've designed an extensive branding and marketing program for the loyalty card making it not only distinctive but also appealing to customers and friendly to use. Our system onboarded not only individual customers to the loyalty program, but also their family members.

The communication assets developed covered many different on- and offline media, from the loyalty card itself and signage in pharmacies, to monthly newsletter with the catalogue and other printed material.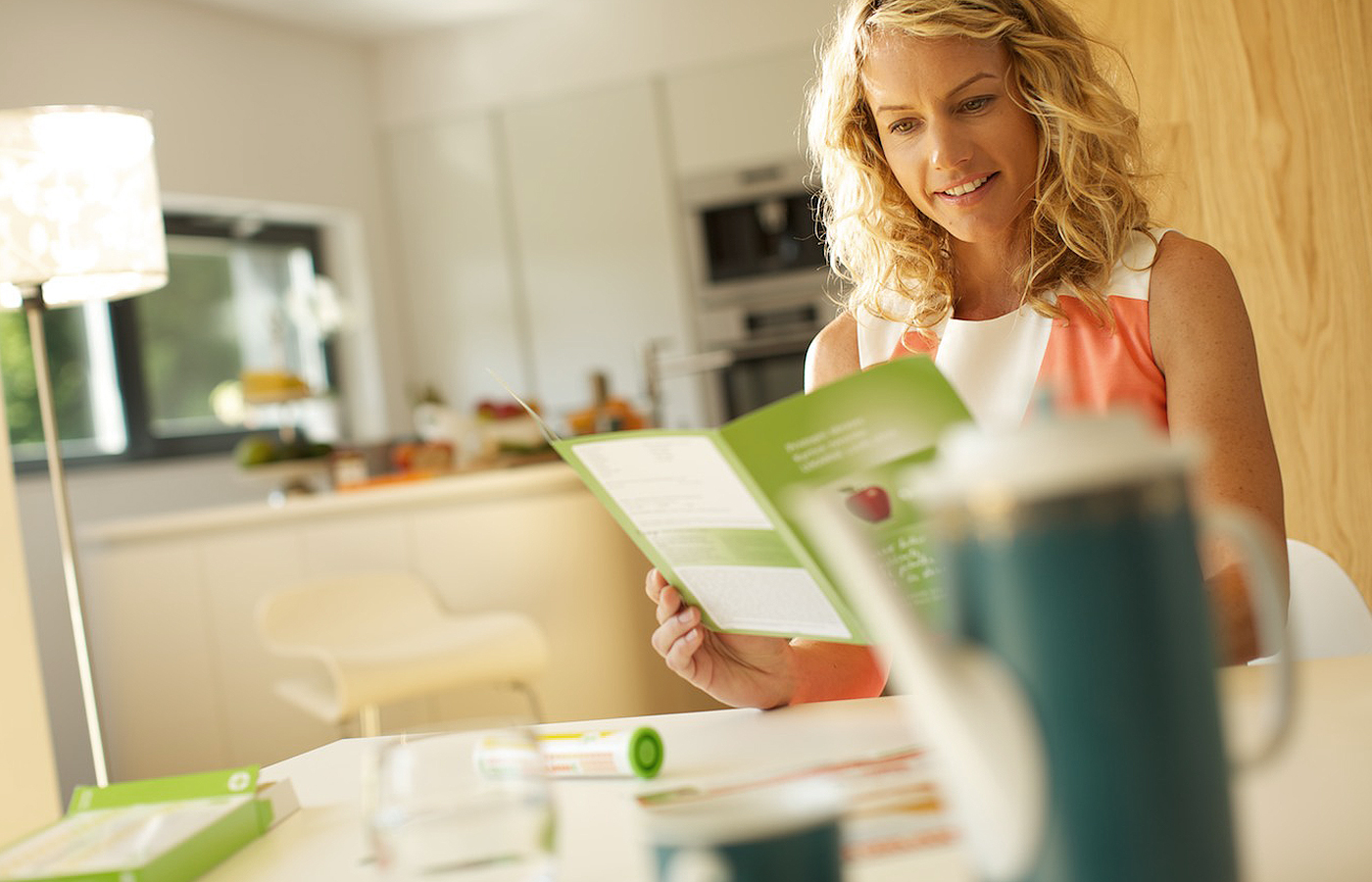 Customer Support
The Ljubljana Pharmacies loyalty card was an immediate hit and, as it is still growing, we provide regular customer support via our in-house omnichannel contact center where our agents regularly help members with onboarding, redeeming loyalty points, and other issues.

The contact center also regularly measures the customer experience through a variety of industry-standard metrics.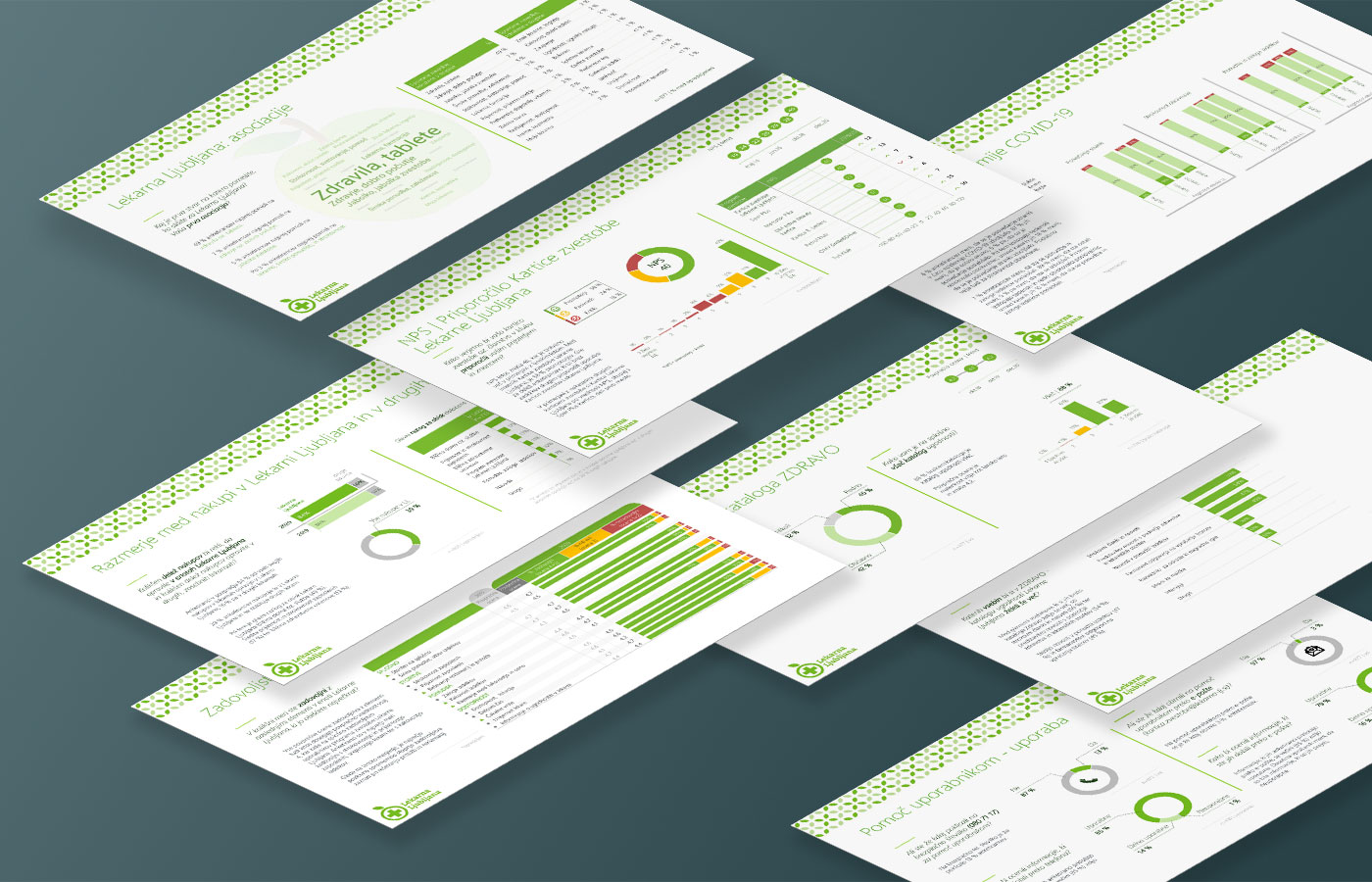 Customer Experience Program
Along with the loyalty program we also developed the customer experience program based on regular measurements taken by our research and data science team.

The insights help us and other stakeholders further improve services and marketing strategies to achieve higher growth and thereby generating the maximum effect with their marketing money.
THE RESULTS
Introducing the loyalty card was an instant success. More than 84% households in the area covered by Ljubljana Pharmacy subscribed to it. Customers have been involved in giving feedback more often and the more feedback they provide, the more efficient business processes become.
NPS grew by 12 in a single year.
The Net Promoter Score – how likely customers are to recommend Ljubljana Pharmacy – is the highest among Slovenian loyalty programs.
think Ljubljana Pharmacy has higher reputation.
Almost 60% of respondents find Ljubljana Pharmacy's reputation higher than other pharmacy chains.
market penetration
Ljubljana Pharmacy's market share has exceeded 40%. And its still growing.
RELATED WARP IT PLATFORM PACKAGES
HOW CAN WE HELP?
CONTACT OUR CONSULTANT